In Dynamics AX2012 there used to be a development tool to quickly count the number of records in all DAX tables: Ctrl-Shift-W, then Tools / Number of records: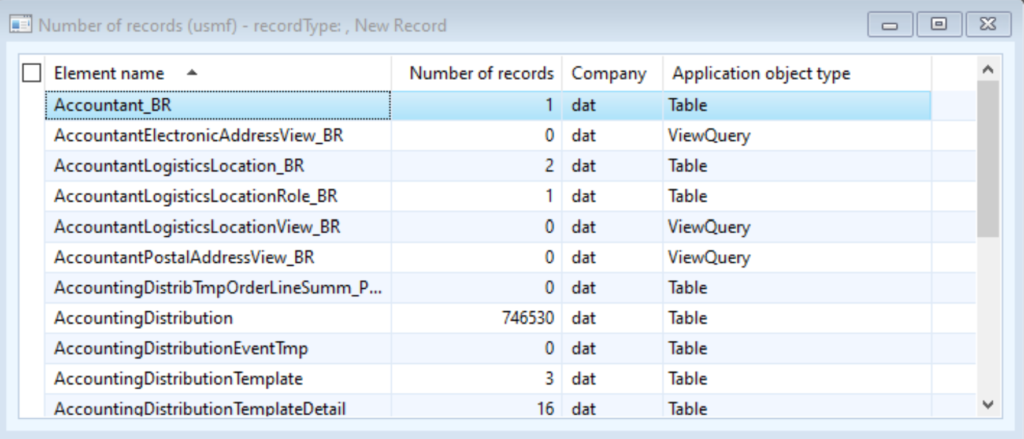 This can be an interesting figure for data migration, measurement of the transaction volume, performance evaluation etc. A similar inquiry in Dynamics 365 for Finance / SCM can be executed in a multitude of ways:
At the moment of this publication the grid is still in a preview and slightly defunct, but you can add a grouping into any D365 list and it is going to draw the number of rows inside: right-click a column, say Group by this column and get a counter in the group header:


The calculation is slow as all records must be loaded from the server into the form data source first. On 10k+ records this method becomes slow to the grade of full impracticability.
Export to Excel
This method works faster than any Data management entity export: press Ctrl-Shift-M to select all records (including invisible / not loaded), then Office button / Export to excel. The success message already gives a clear indication of the total of all records exported: "We finished your export of 6265 rows. The full export took 1.6 minutes."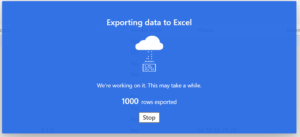 This works a way faster, but not the fastest.
Workspace tile
On a screen of your choice, apply a query if needed, then use Options / Add to workspace, then Configure – Show count on the tile, then check the destination workspace:


This works fast and even provides a drill-down capability, but not techy enough.
---
Get entity record count
Navigate to Common / Common / Office integration / Excel workbook designer. This little known cockpit let you make magic self-refreshing Excels you can give out to the users. The tailored Excel templates have pre-configured columns and a Microsoft Dynamics Office Add-in conditioned to the current environment. Now look for the entity of your interest and press the sleek button Get entity record count:


This is a super fast, smart and satisfying method, handicapped by the fact, that not every table in the system is an entity, but it comes the closest to the good old Number of records list.